The weather was so brilliant this weekend that if you looked up and down the East Coast, from Boston to Washington DC, and places above and beyond, you saw folks breaking out their short sleeves, shorts, flip-flops, and other summery accoutrement. So here's our list of our favorite foods for an Indian Summer's Day that encompass both our recent past and the weather that is to come:
1. BBQ'd corn on the cob with bacon and garlic butter. (Find something like this at Bone Lick Park in Greenwich Village!)
2. Gourmet pretzels that can be dipped in nacho cheese, spicy mustard, or sour cream with chives. (Find a similar pretzel in Midtown at Circa NY.)
3. Buffalo chicken burger, with all the blue cheese fixings you crave. (Find something like it at Jake's in Cobble Hill, Brooklyn.)
4. Gazpacho… still soup, yet still chilled. Need we say more? (Find something like it at Food Stop on the Upper West Side.)
5. Catfish, eggs, and grits that we ate for Sunday brunch! (Head to Sylvia's in Harlem for this Southern goodness.)
6. Sun dried tomato and goat cheese crostini (Try something like this with the goat cheese experts of Billysburg, Le Comptoir!)
7. Kale and quinoa salad with strawberries. (Try something like this at Organic Avenue in Chelsea.)
8. Vegetable crepes (Find these treats for $5 at La Crepe C'est Si Bon in the Bowery.)
9. Blueberry crumb cake (Try something like this at Blake & Todd in Midtown.)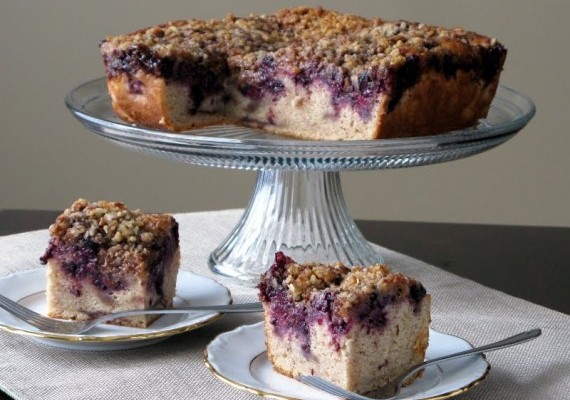 11. Shrimp tacos. (Find them at Sabor A Mexico II on the Upper East Side.)
12. Sausage Jambalaya. (Find something similar at Two Boots of Brooklyn in Park Slope.)
13. Prosciutto salad. (Find something like this at DoppioSenso on the Upper East Side.)
14. Crab cakes! (Try these bad boys at The Claw in the Theatre District.)
Search Seamless or Menupages by these dishes you love to see where you can find them! Got any other Indian Summer favorites? Share them in the comments below!